DI - 1 tool control unit
Ref. DI-1B 120V, DI-2B 230V, DI-9B 100V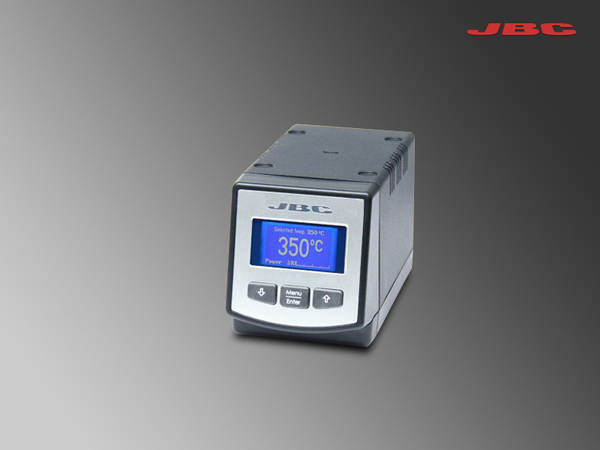 This control unit manages 1 tool for production and reworking applications. It offers full connectivity to any kind of tools in order to build your own soldering or desoldering station.
For a basic working system, you also need at least 1 stand, 1 tool and 1 cartridge. There are available more than 300 cartridges to choose.
DI incorporates the JBC exclusive heating system that increases the work efficiency thanks to the fast temperature recovery.
The intelligent sleep and the hibernation feature enable to extend tip's life more than 5 times
Through the menu you can customize more than 20 functionalities in order to manage the soldering process.
Features
Weight
2 kg (4.3 lb)
Size
90x105x180mm
Voltage(AC)
230V / 120V / 100V
Input Fuse
1A (230V), 2A (120V), 2.5A (100V)
Output Peak Power
130W / 23.5V
Temperature selection
90-450 ºC / 190-840 ºF
Tip to ground resistance
<2 ohms
Ambient operating temp.
10-40 ºC / 50-104 ºF
ESD Safe
USB interface station-PC
Package weight
2.3 kg (5 lb)
Package dimensions
215x225x160 mm
 

The page can not be displayed correctly if you use Internet Explorer!


© copyright 2012 Al-Bohacen Kft.