About Us
More than 80 years of experience have placed JBC at the technological forefront of tools for soldering and rework operations in electronics.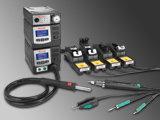 Innovation, efficiency and reliability are the key features of a wide range of products which have been designed to satisfy the most demanding requirements of professionals.
JBC is a global company with local offices and a distributor network spanning 5 continents that guarantees a solid commercial organization and quick and efficient service.
All JBC products comply with EC regulations and ESD recommendations.

The page can not be displayed correctly if you use Internet Explorer!


© copyright 2012 Al-Bohacen Kft.